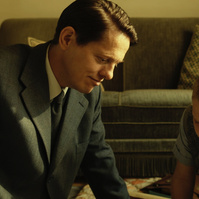 Krag og Virkner - Drama & Documentary
TV Series DR 1
When the Danish politician Jens Otto Krag and the famous film star Helle Virkner becomes a couple, it is the love story of the century. 'Krag & Virkner' takes us back to the Danish history between 1945-1978 and portrays the life of the Danish actress Helle Virkner and her husband, politician and the Danish Prime Minister - Jens Otto Krag. Krag & Virkner is a love story between two people, but it is also a story about their life, challenges, passions, politics and divorce.
Director, Thure Lindhardt
Tech Director, Mathias Broe
Color Grader, Norman Nisbet
Gaffer, Paweł Józwicki
1st AC, Maciej Król
Starring: Thure Lindhardt as Jens, Katrine Greis-Rosenthal as Helle
Stream the series online (DANISH)
Produced by Monday Productions for DR1, Danish National TV
Premiered on the 22nd of May 2022
My role on this project was to create a visual style, a visual movement in colour and light which combined the drama parts set back in the 40s to 70s with the current day interviews. A style which I developed with the director, with our creative team, and mainly with our colourist Norman Nisbet. We collaborated together from the early camera tests in pre-production to shaping light atmospheres on the set - to the final stages of the colour correction in post.
Drop me an email, if you would to know more about our work flow.